President's Message
Alfisti,
Firstly: Welcome to the new AROCA Victoria web site, hosted by MYCCO. While it has been a while in the making, we hope that you will find it a better experience than our previous offering.
The new web site includes details of the Club and its history; the Club's committee & volunteers; our governance documents; and most importantly a calendar of events for you to get involved in and the members' only portal, where you can update your profile details, as well as those of your vehicle(s), and manage your subscription.
As we move past Easter and on to Winter, it's great to reflect on what activities have been organised and note the good work done by our volunteers assisting in Competition, Displays, Sunday Drives and Social Events. Positive comments are continually being passed on to the Committee by appreciative members and Event Organisers thank them for their feedback.
The new Committee members have attended their first Committee meeting and Club Night and are finding their feet in a rewarding but sometimes demanding environment. The important lesson recently learnt is to ensure that all our communication lines are functioning correctly, so that up-to-date information is available to members – whether via email broadcasts, Facebook or the Club Calendar on the web. With numerous events in planning, often at the same time, it must be current and accurate.
April was a very busy time starting with the Australian F1 Grand Prix & the Live Fast Club display; the Alfisti Autumn Tour, Auto Italia, Alfesta, and a Concorso and Detailing Workshop.
On the last weekend of the month, Max Maltese, the Register Co-ordinator, organised a drive from Yarra Glen to Bonnie Doon. 50 plus members attended with over 30 cars ranging from 105 spiders to new Giulia models – spanning some 60 years!
We now look forward to the next important event, the Annual Award Night to be held at the Veneto Club in Bulleen on Wednesday 10 May. Please add it to your diary. Finger food and drinks will be available at the bar from 7pm. Club Night commences at 8pm, followed by the Award Presentations.
The Club's May calendar is also packed as we have: another of the popular Members' Social Breakfasts at Brunetti Classico in Carlton (new members are very welcome); the Annual Awards Night; Alfa Club Competition at Sandown with Parade Laps combined with a mid-year Show & Shine; the annual Maling Road Auto Classico; and a Classic & Historic car show at Pantry Fresh in Clayton. That's a pretty good mix of competition, social and display events; be sure to get along and enjoy a few events before winter.
We are now approaching the final stages of implementing the new website, with a new Membership portal. The Club will be contacting members via email with log in details over the next few weeks.
Further planning has taken place and a tentative booking has been made for the annual Spettacolo Festival, comprising the Club's traditional Show & Shine with an improved Concorso incorporating Restoration, Preservation and Modified classes for Classic vehicles and a new Modern Classic class.
To continue with running the club, we always seek assistance with running events. There are still several outstanding roles for co-opted members. These are to manage Club Shop and the Club Archive and Historical documentation.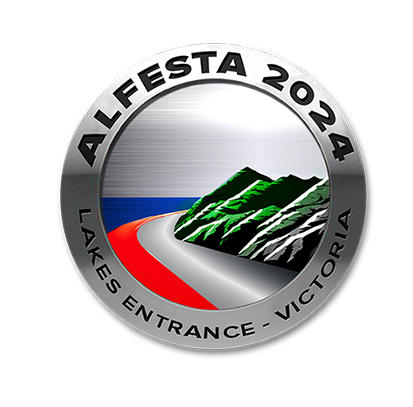 AROCA Victoria will be hosting ALFESTA 2024 in Lakes Entrance next Easter. Details are on the web here: https://www.alfesta2024.net/ Bookings are already open, so if you would like to join us at our Alfesta in 2024 get in early and book now, or risk missing the best AROCA event.
 Otherwise
If you would like to get involved with planning a Drive or Register event, or to assist at a Club meeting or Competition event, please do not hesitate to contact me. 
Check the calendar on the Club's website for new and updated events. You will also find event information on the Club's Facebook page, in the Club's quarterly magazine Cross + Serpent, and in the monthly newsletter Notizie Alfisti.
Stay safe & well,
John Hanslow
President, AROCA (Victoria Division)
May 2023